Back to Press
Share
1939 Delahaye 135 MS by Figoni et Falaschi Named Best of Show at the Detroit Concours d'Elegance
September 25, 2023
4 min read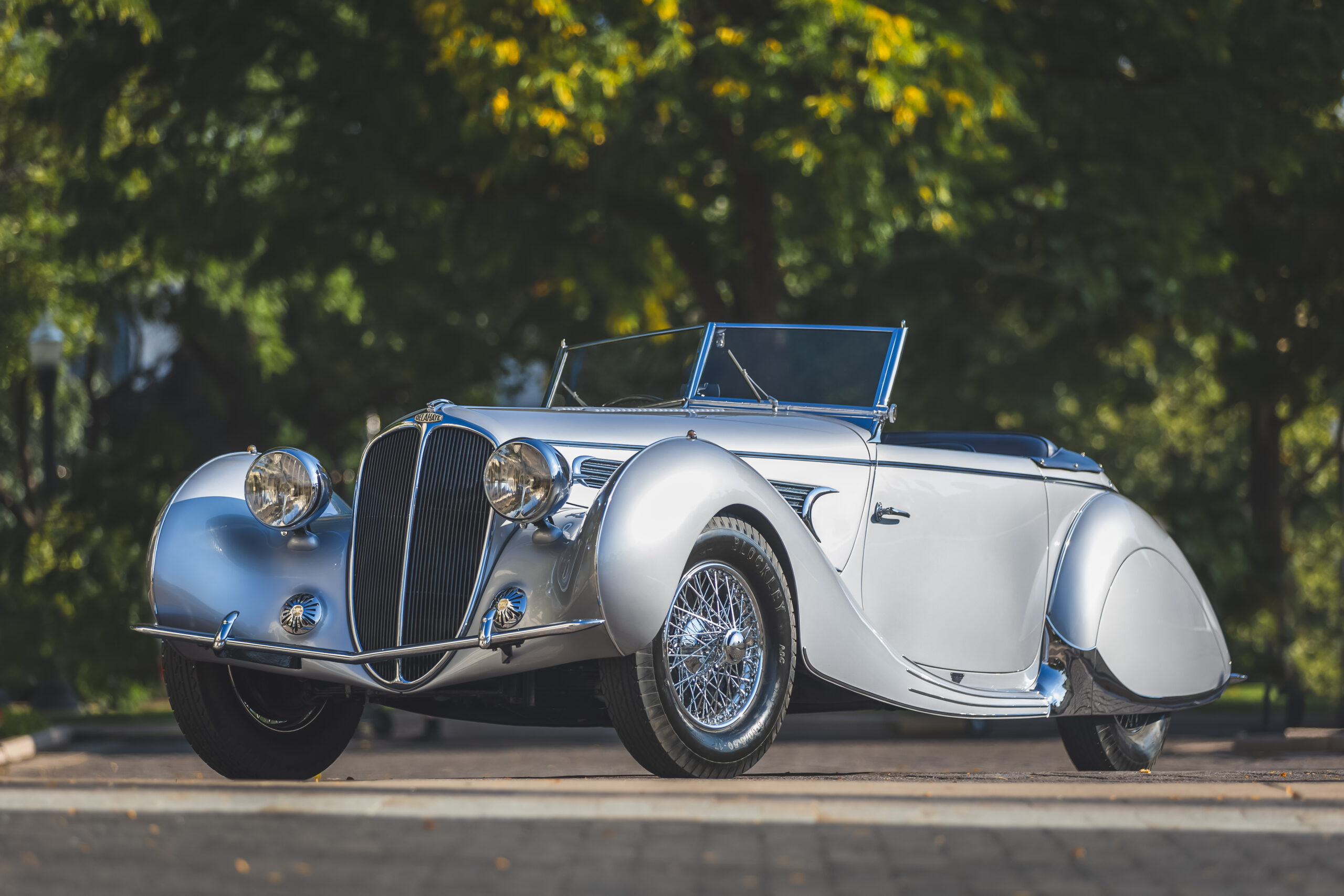 Detroit Concours d'Elegance, by the numbers 
$25,000 pledged to local charities

 

5,000 attendees across 2 event days

 

300 Ride and Drive experiences, 50% increase from 2022

 

150 vehicles at the Detroit Concours d'Elegance

 

75 vehicles at Cars & Community

 

Hundreds of youth engaged

 
Traverse City, MI – September 25, 2023 – A 1939 Delahaye 135 MS by Figoni et Falaschi was chosen as this year's Best of Show winner at the Detroit Concours d'Elegance, held at the Detroit Institute of Arts. The Delahaye was displayed at the event by Ted and Mary Stahl of Stahl's Automotive Museum in Chesterfield, Michigan.  
The concours welcomed more than 5,000 participants and more than 200 cars on Friday and Saturday in the heart of the Motor City, surrounded by the people who helped develop, manufacture and maintain these machines throughout their lives. Central to the weekend's festivities was 'Powered by Detroit,' a celebration of the people that put America on wheels through their work in the automotive industry. 
"Detroit has long been the heart of the auto industry in America and has global influence on the design and trends in transportation today. There is no better place to celebrate the car and all it represents than among those who built the cars of the past and present" said McKeel Hagerty, CEO of Hagerty and Chairman of Detroit Concours. "The winning Delahaye 135 MS speaks to the eye for automotive design and passion woven into the fabric of this city. There are no enthusiasts as well versed in the automobile as Detroiters, and a winning car here surely meets the highest standards." 
Continuing a decades-long tradition of giving, the Detroit Concours and the Hagerty Drivers Foundation pledged a combined $25,000 to local nonprofit partners including Boys & Girls Club of Southeast Michigan, Cass Tech High School, Midtown Detroit, Inc. and Pingree Detroit.  
Friday's Cars & Community featured more than 75 vehicles divided including a RADwood display featuring vehicles of the 80s and 90s and a curated car club display. Hundreds of future drivers participated in activities throughout the show grounds including a scavenger hunt and the opportunity to sit in display cars. 
300 people participated in Hagerty's free Ride and Drive program throughout the event. The program allows enthusiasts to get behind the wheel of classic cars selected from the Hagerty Learning Garage. Test drive vehicles included a 1963 Lincoln Continental, 1969 Chevrolet Camaro SS 396, 1970 Dodge Challenger and 1971 Ford Bronco. 
On Saturday, the Detroit Concours d'Elegance showcased 150 of the world's best cars on the grounds of the Detroit Institute of Arts. Featured classes included Powered by Detroit, Designs of Gordon Buehrig and Automotive Innovations, all with deep roots in Detroit car culture. Judges from across the automotive landscape included designers, restorers, historians and students, many of whom call the greater Detroit metro area home. A group of youth judges chose the Hagerty Youth Judging award winners. 
The 2023 Detroit Concours d'Elegance Best of Show trophy was awarded to a 1939 Delahaye 135 MS by Figoni et Falaschi displayed at the event by Ted and Mary Stahl of Stahl's Automotive Museum in Chesterfield, Michigan. 
Following the introduction of the 135 in 1934, Delahaye merged with French manufacturer Delage, thus inheriting many of the marque's wealthy clients who demanded both performance and elegance in an automobile. The agile chassis and a 130 horsepower, 3.5-litre six-cylinder engine made for a wonderfully competitive road and racing car. The eye-catching Figoni et Falaschi coachwork was among the most exciting designs of the era and remains head-turning nearly 90 years on.  
This example was commissioned by Parisian socialite and singer Mme. Lucienne Benitez-Rexach who was known for her lavish taste and famous friends such as Pablo Picasso.  
"We've worked very hard to build something to this standard, deserving of Best of Show honors," said Terri Coppens, General Manager of Stahl's Automotive Museum. "And winning the show in our home state is a wonderful thing – we are very happy." 
 About Detroit Concours d'Elegance 
The Detroit Concours d'Elegance is a tribute to the people and city that designed, built and drove American car culture, and to the vehicles at its heart. Held at the Detroit Institute of Arts with activity throughout the city, complementary and ticketed activities include new-vehicle showcases, ride & drive opportunities, exclusive experiences as well as Friday's family-focused Cars & Community and Saturday's Concours d'Elegance. 
The Detroit Concours d'Elegance builds on more than four decades of world-class automobiles, fine dining, exceptional hospitality and impactful community giving. Its heritage can be traced back to its beginnings in 1979 at Meadow Brook and Concours of America. 
For more about the Detroit Concours d'Elegance, visit DetroitConcours.com. 
Press materials are available at www.DetroitConcoursMedia.com 
About Hagerty, Inc. (NYSE: HGTY) 
Hagerty is an automotive lifestyle brand committed to saving driving and fueling car culture for future generations. The company is a leading provider of specialty vehicle insurance, expert car valuation data and insights, live and digital car auction services, immersive events and automotive entertainment custom made for the 67 million Americans who self-describe as car enthusiasts. Hagerty also operates in Canada and the UK and is home to Hagerty Drivers Club, a community of nearly 800,000 who can't get enough of cars. As a purpose-driven organization, Hagerty Impact aims to be a catalyst for positive change across the issues that matter most to our teams, our members, the broader automotive community, our shareholders and the planet at large. For more information, please visit www.hagerty.com or connect with us on Facebook, Instagram, Twitter and LinkedIn.  
Press materials can be found at newsroom.hagerty.com.