Back to Press
Share
RADindex Released: '80s and '90s Enthusiast Cars Define New Era While Outpacing S&P 500 Over Last 5 Years
November 6, 2023
4 min read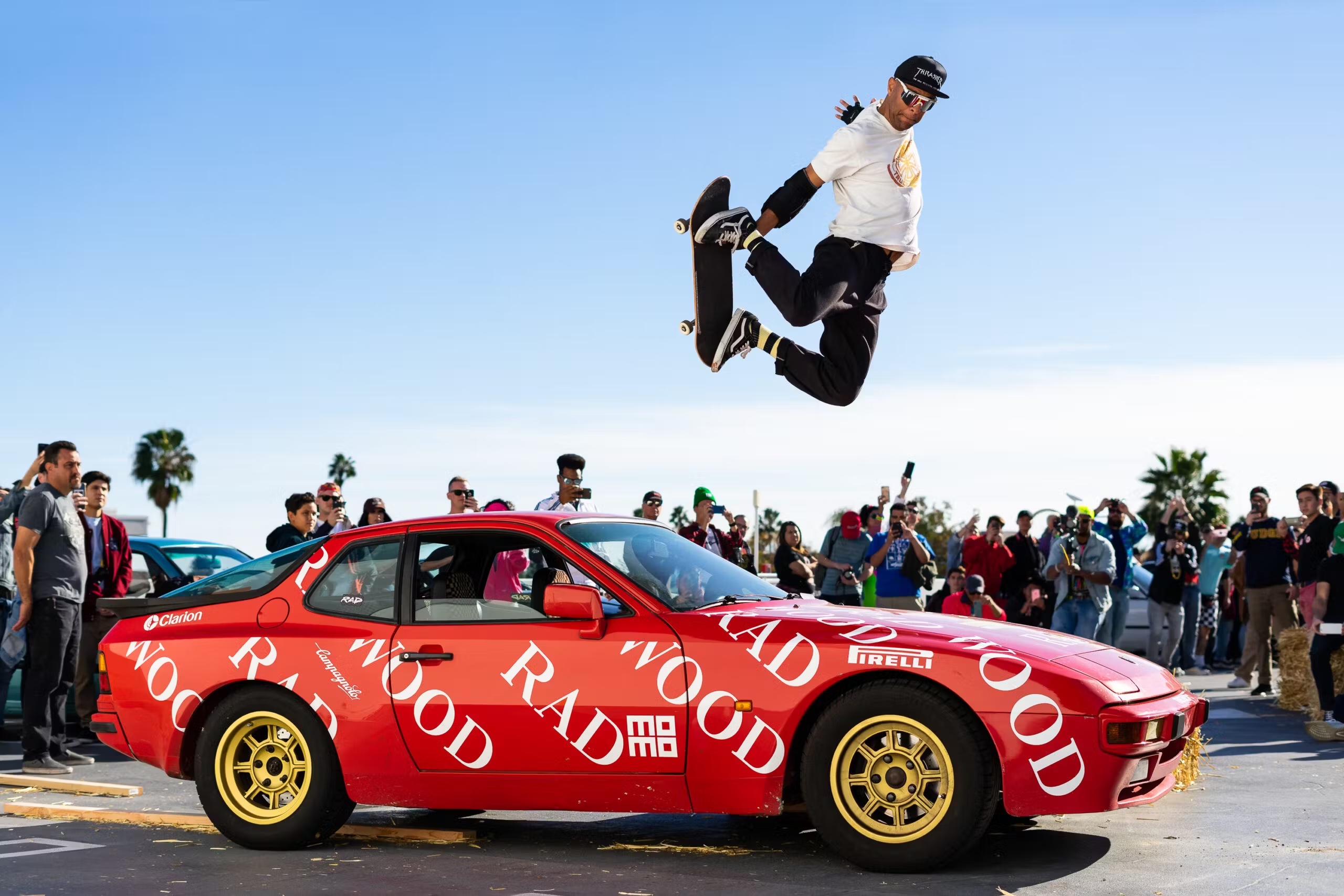 The 21 vehicles of the RADindex are the icons of the era

 

From 2013 to today, the cars have climbed from an average value of $22,652 to $72,876

 

Cars include the E30 BMW M3, 'Fox Body' Mustang and Mazda RX-7

FD

 

Index joins others from Hagerty including Blue Chip, Muscle Car, Affordable Classics as well as the Hagerty Market Rating

 
Traverse City, MI – November 6, 2023 – Hagerty, an automotive lifestyle brand and a leading specialty insurance provider focused on the global automotive enthusiast market, today released RADindex, a compilation of RAD-era (1980s and 1990s) vehicles which best represent the era. The average value of vehicles across the index is $72,876, representing an increase of 70% over the last5 years. The RADindex graph can be found here with historic pricing data starting in 2013. "RADwood era enthusiast cars have been on a tear lately," said John Wiley, manager of Hagerty Valuation Analytics. "Conventional wisdom says it's a newer, younger generation of buyers coming into money, but that's just part of the story. Reliability, usability and performance make RAD-era cars appealing across demographics. As they've aged and found their niche at events such as RADwood, '80s and '90s cars have  become celebrated eras in motoring and have now found their place even on the most respected show fields in the world, including Pebble Beach Concours d'Elegance. These reasons further solidify their place as serious collector items."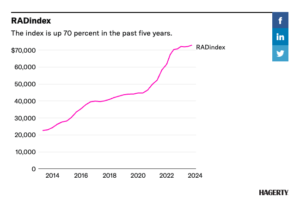 One factor in value is the usability for RADwood era automobiles, both on the road and at events like RADwood. RADwood started in 2017 and focusses on the cars and culture of the '80s and '90s. Under Hagerty's stewardship, RADwood attracts thousands of cars and tens of thousands of guests to events across the country each year. The final event for 2023 takes place November 11 in Los Angeles.  
"We see all ages and demographics represented at our events," said director of RADwood Art Cervantes. "RADwood era automobiles aren't just for millennials, they're for all enthusiasts. As they've grown an audience, one side effect has been an increase in value, but that's just the result of more use and more enjoyment. If you look at the RADindex again through that lens, it really shows just how much delight and satisfaction they've brought to car culture." 
The RADindex is made up of 18 cars, 1 SUV and 2 motorcycles which define the era in motoring. This includes the: 1981 Delorean DMC-12, 1983 Audi Quattro, 1985 Ferrari Testarossa, 1986 Lotus Esprit S3 Turbo, 1987 Buick Regal GNX, 1987 Mercedes-Benz 190E 2.3 16v, 1988 BMW M3, 1989 Porsche 944 Turbo, 1990 Chevrolet Camaro IROC-Z, 1990 Chevrolet Corvette ZR-1, 1990 Ford Mustang 5.0 GT Convertible, 1990 Mazda MX-5 Miata, 1990 Nissan 300ZX Turbo T-Roof, 1991 Acura NSX, 1991 GMC Syclone ½ Ton, 1991 Lancia Delta HF Evoluzione I, 1991 Volkswagen Golf GTI 16V, 1993 Mazda RX-7, 1995 Porsche 911 Carrera Coupe, 1984 Kawasaki ZX900-A1 Ninja and the 1990 Honda VFR750R RC30. For the full list, values and value changes over the past 3 and 12 months, click here. 
For the full story visit Hagerty Media here. For more data on the collector car market, subscribe to the Hagerty Insider newsletter here.  
About Hagerty, Inc. (NYSE: HGTY) 
Hagerty is an automotive lifestyle brand committed to saving driving and fueling car culture for future generations. The company is a leading provider of specialty vehicle insurance, expert car valuation data and insights, live and digital car auction services, immersive events and automotive entertainment custom made for the 67 million Americans who self-describe as car enthusiasts. Hagerty also operates in Canada and the UK and is home to Hagerty Drivers Club, a community of more than 800,000 who can't get enough of cars. As a purpose-driven organization, Hagerty Impact aims to be a catalyst for positive change across the issues that matter most to our teams, our members, the broader automotive community, our shareholders and the planet at large. For more information, please visit www.hagerty.com or connect with us on Facebook, Instagram, Twitter and LinkedIn. 
Press materials can be found at newsroom.hagerty.com 
Securities-Related Disclaimers  
This release mentions instruments that may be securities, issuers that may be conducting offerings, and other matters that may bear on securities.  We are not a securities broker-dealer, investment adviser, or financial planner, and we are not registered with the U.S. Securities and Exchange Commission or any state or foreign securities regulatory authority.  The information we publish in this release is provided for information purposes only and is not intended for trading purposes.  None of the information contained in or accessible through this release constitutes a solicitation, offer, opinion, or recommendation by us or any of our affiliates to buy or sell any security, or to provide legal, tax, accounting, or investment advice or services regarding the profitability or suitability of any security or investment. This release is intended only to provide information that is broad in scope and potentially of interest to our users.  This release may rely on information gathered from third parties that we do not independently confirm, and it does not include all information that is relevant to any particular decision.  You should obtain additional information and advice from your financial, tax or other advisers who are fully aware of your individual circumstances before you make any decisions involving securities. 
Forward-Looking Statements  
This press release contains forward-looking statements within the meaning of the Private Securities Litigation Reform Act of 1995. These statements reflect our current intentions, expectations, or beliefs regarding the business. Because forward-looking statements relate to the future, they are subject to inherent risks and uncertainties that are difficult to predict and may be outside of our control. Some of the factors that may cause our actual results to differ materially from those contemplated by our forward-looking statements include: (i) our ability to recognize the anticipated benefits of the subject of this press release; (ii) our ability to compete effectively within our industry and attract and retain members; and (iii) the other risks and uncertainties listed in our Form 10-K filed with the U.S. Securities and Exchange Commission ("SEC") on March 24, 2022. This press release should be read in conjunction with the information included in our other press releases, reports, and other filings with the SEC. Understanding the information contained in those filings is important in order to fully understand our reported financial results and our business outlook for future periods. We do not undertake any obligation to publicly update or review any forward-looking statement, whether as a result of new information, future developments, or otherwise, except as required by law.