Back to Press
Share
Motorsports Hall of Fame of America Inductee, Judy Stropus, Chosen as Grand Marshal for the 2022 Greenwich Concours d'Elegance
April 13, 2022
4 min read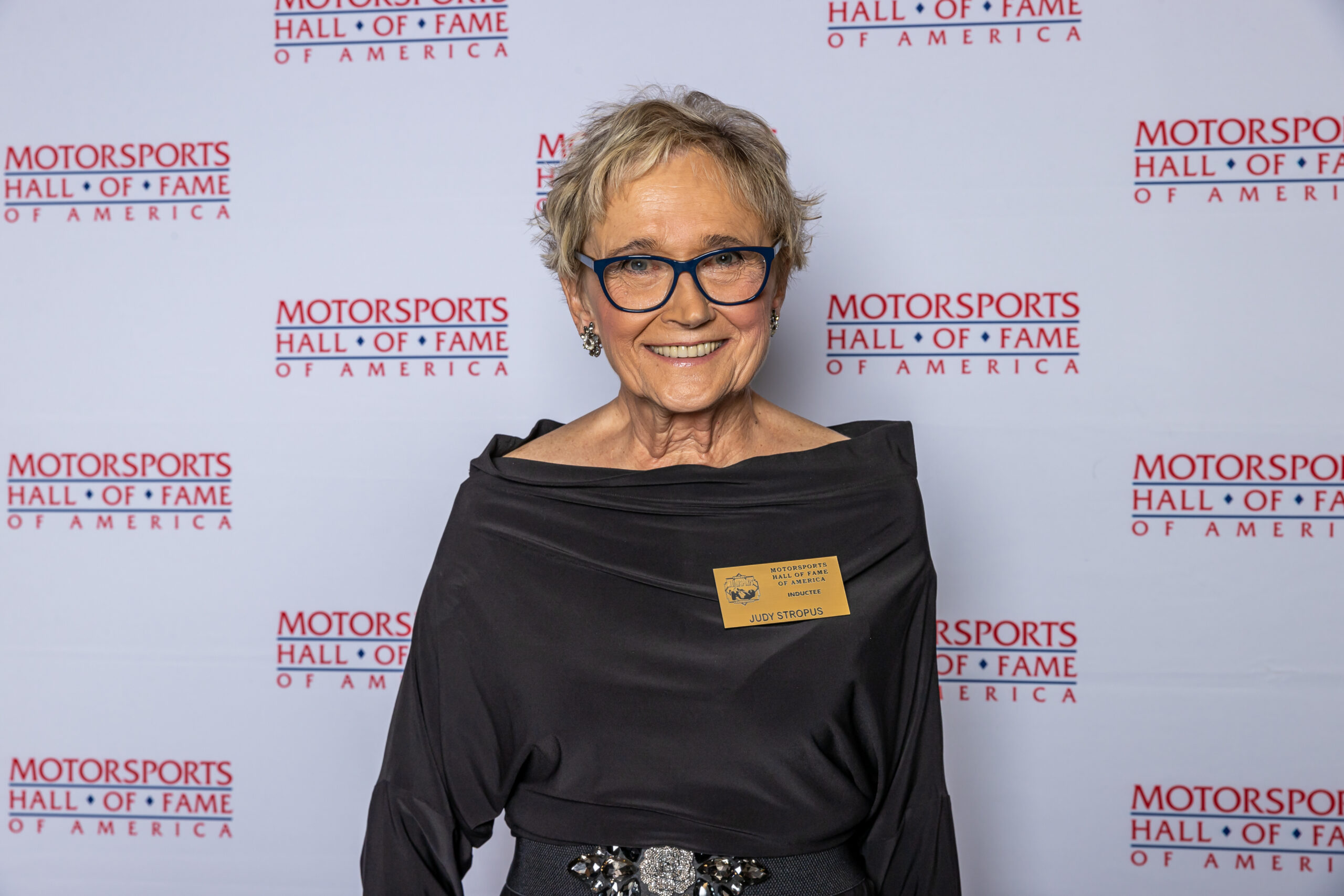 Judy Stropus - Courtesy of Thomas R. Miller Photography and the Motorsports Hall of Fame of America
TRAVERSE CITY, Mich., April 13, 2022 – Hagerty is excited to announce that author, driver, entrepreneur and motorsports innovator Judy Stropus will serve as Grand Marshal for the 2022 Greenwich Concours d'Elegance, held at Roger Sherman Baldwin Park overlooking Greenwich Harbor on June 3-5, 2022.
Judy Stropus' talent, passion, precision and creativity have been a pivotal part of American and international motorsports for over half a century, she literally wrote the book on race timing and scoring. In an era before computers were tasked with the job, race timing and scoring would require doctoral thesis-level intellectual poise under extreme and unrelenting pressure in a noisy and often dangerous environment. Her text "The STROPUS GUIDE to Auto Race Timing & Scoring: Modern Sports Car Series" is often recognized as the standard on the disciplined and cerebral art.
"Judy's accomplishments are only overshadowed by her incredible spirit," said McKeel Hagerty, CEO of Hagerty. "She has been a key player, often behind the scenes, at the Greenwich concours for many years. We can't think of a more fitting occasion to celebrate her inspiring motorsports story and life-long passion for driving."
Born in Lithuania in 1943, Judy Stropus and her mother emigrated to the United States in 1949. Her work would break barriers and open doors for women in motorsports. In the early 1970s when women were not permitted to work in the Indianapolis Motor Speedway Garage, Stropus would secure special permission for timing and scoring for then Penske Racing.
Stropus' client list bristles with icons and legends: Bob Akin, All American Racers, American Motors, Wayne Baker, Dick Barbour, BMW, Bud Moore Engineering, Ted Field, Hendrick Motorsports, Al Holbert and Bruce Leven.  She's also worked with CBS, ABC, TNN and ESPN.
Stropus' on-track resume includes the Volkswagen Cup (Bilstein Cup), the Kelly American Challenge, a number of 24-hour showroom stock races and the SCCA Nationals, where she earned a spot in the 1979 National Runoffs. In 1972, Stropus ran the notorious Cannonball Baker Sea-To-Shining-Sea Memorial Trophy Dash. Her all-woman team made it to Texas before their borrowed limo decided to pack it up. She's raced a Maserati Bi-Turbo, a Porsche 914 and 924, a 1954 OSCA, a Frazer Nash and drove her 1952 Lancia Ardea in the 2013 California Mille. Stropus continues to enjoy racing go-karts, recently competing in the 2022 Jacksonville Grand Prix for charity.
Her communication skills are a perfect complement to her analytical abilities. Her public relations work for Chattanooga Motorcar Festival, Philadelphia Concours d'Elegance, Evro Publishing, Road Racing Drivers Club and Sports Car Market, among others, keep the other hemisphere of her formidable brain occupied. Stropus was the only choice to author the Lyn St. James feature for the 2021 Amelia Concours program. She is a featured columnist for Wayne Carini's The Chase magazine.
Over the years her company JVS Enterprises has handled motorsports PR for a widely varied client list including Arnold Entertainment, BMW North America, Brumos, Callaway Corp., Chevrolet, Don Schumacher Racing, Dunlop, Duracell, General Racing (historic racing), Greenwich Concours d'Elegance, International Motor Racing Research Center, Lime Rock Park, New England Auto Museum, Pirelli and the Rolex Bob Snodgrass Award of Excellence. In 2008, she was awarded the Jim Chapman Award for Excellence in Public Relations by the American Auto Racing Writers and Broadcasters Association.
Stropus received the Road Racing Drivers Club's Bob Akin Award in 2015, presented annually to a racer with a high level of sportsmanship and fair play who has contributed to the sport of motor racing and the community at large. Most recently, she was inducted into the Motorsports Hall of Fame of America, an honor fitting of her incredible career and contributions to the sport.
Tickets for the 26th annual Greenwich Concours d'Elegance are on sale now. For more information, including details on Saturday's new Cars & Community presented by Griot's Garage, visit GreenwichConcours.com
About Greenwich Concours d'Elegance
Founded in 1996, Greenwich Concours d'Elegance is a three-day premier motoring event held June 3-5, 2022, in Greenwich, Conn. Exclusive gatherings, luxury shopping, ride and drives, new vehicle experiences and entertaining seminars complement Friday's Grand Tour and Saturday's Cars & Community presented by Griot's Garage. Sunday's nationally recognized Concours d'Elegance celebrates historically significant American and international vehicles along the town's picturesque harbor front. Each year the event supports local charities as a part of Hagerty's larger giving strategy. For more about Greenwich Concours d'Elegance visit our website at GreenwichConcours.com.
About Hagerty, Inc. (NYSE: HGTY)
Based in Traverse City, Michigan, Hagerty's purpose is to save driving and preserve car culture for future generations and its mission is to build a global business to fund that purpose. Hagerty is an automotive enthusiast brand offering integrated membership products and programs as well as a specialty insurance provider focused on the global automotive enthusiast market. Hagerty is home to Hagerty Drivers Club, Hagerty DriveShare, Hagerty Valuation Tools, Hagerty Media, Hagerty Drivers Club magazine, MotorsportReg, Hagerty Garage + Social, The Amelia, Detroit Concours d'Elegance, Greenwich Concours d'Elegance, California Mille, Motorlux, Hagerty Drivers Foundation and more. For more information on Hagerty, please visit www.hagerty.com, or connect with us on Facebook, Instagram and Twitter.
More information can be found at newsroom.hagerty.com.
###
Contacts
Hagerty Media Contacts:
Chris Brewer, Hagerty, cbrewer@hagerty.com, 904-323-3508
Source: Hagerty