Back to Press
Share
Hagerty Marketplace Shares 2023 Online Auction Performance Highlights, Summer Consignment News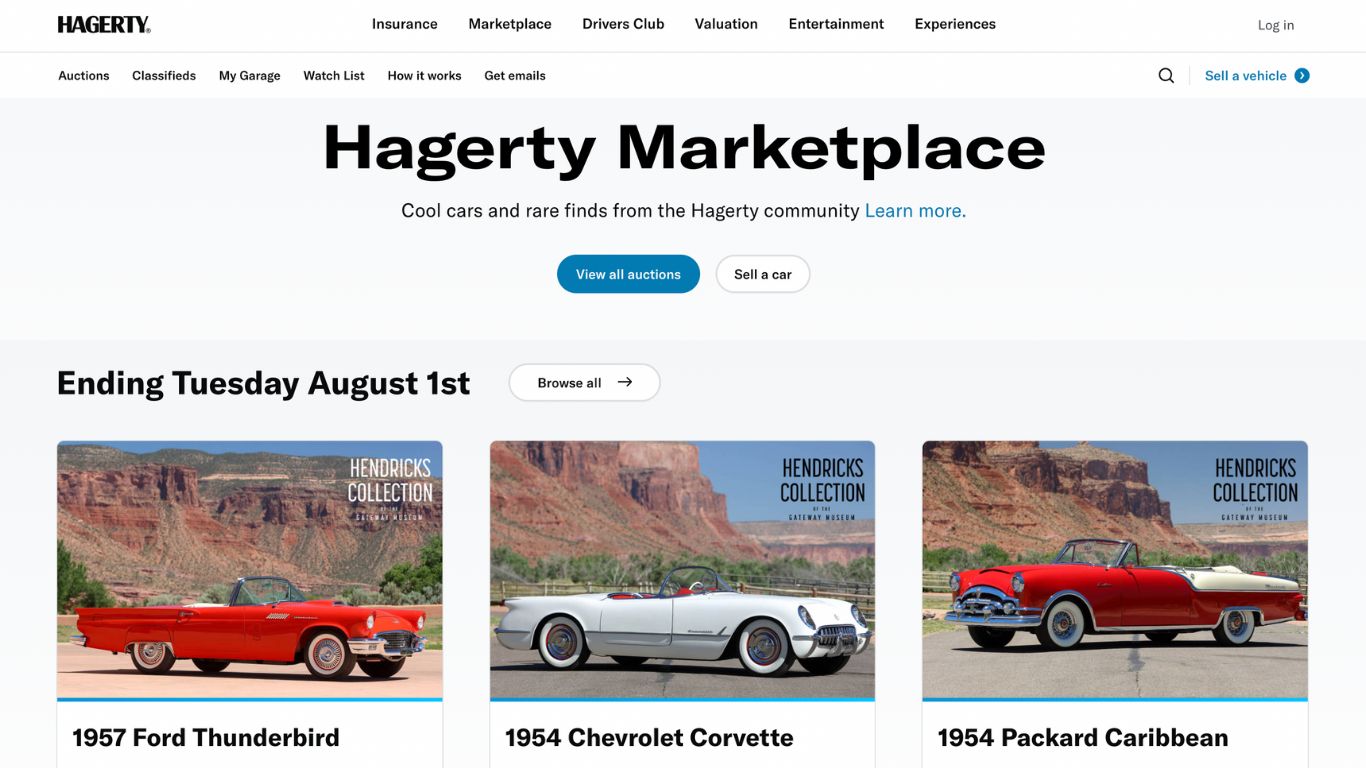 Traverse City, Mich., July 25, 2023 – Hagerty Marketplace, a leading platform for automotive enthusiasts and collectors, emerges as a strong place to buy and sell collectible cars through both classifieds and online auctions offerings. Classifieds now has more than 1,000 cars on offer while Hagerty Marketplace online auctions provides a curated offering of vehicles, leveraging decades of industry expertise from Hagerty car specialists. Following a 2022 launch, online auctions is on track to meet expectations by exceeding a 70% average sell-through rate year to date, and trending towards 80%. The average value of cars sold since the launch of online auctions is in excess of $47,000*, demonstrating the quality and desirability of the vehicles available through the platform.
The recent "Retro Motors" collection, which featured more than 30 cars mostly from the 1950s through today, resulted in a sales total of $2.4 million. The average value of cars sold within the collection was an impressive $108,482, reflecting the caliber of offerings and the platform's ability to reach a wide audience. Notably, the collection featured six Corvettes across the generations of the model, including a handful of desirable six-speed, modern classics.
"Hagerty Marketplace has quickly built a reputation as a trusted and transparent source for online collector car auctions," said President of Hagerty Marketplace Kenneth Ahn. "We have taken lessons learned from decades of experience at in-person auctions and have combined those customer-first principles with the simplicity of online auctions to create a personalized and exceptional experience."
Introducing the Hendricks Collection
Hagerty Marketplace is offering the Hendricks Collection at the Gateway Museum which comprises over 50 motor cars in total from the early 1900s through today. Offered on behalf of the Hendricks Collection, which is devoted to understanding and celebrating the history, design and social impact of the American automobile, the lots will close between July 31 and August 11, with 2-3 cars ending each weekday during that period. The impressive collection consists of approximately 25 cars now offered online and another to be offered by Broad Arrow's live auction, Radius, at the Monterey Jet Center, August 17-18.
Broad Arrow, a Hagerty company, is the centerpiece of the Hagerty Marketplace strategy, designed to provide consumers new trust-based platforms for buying, selling and financing collectible cars. Hagerty Marketplace was launched in 2022 to provide a portfolio of offerings to help members and enthusiasts buy and sell collectible cars. Through online auctions, sellers work with a dedicated Hagerty Marketplace auction specialist from consignment to title transfer. The assistance makes the selling process as simple as traditional auctions with the speed and low fees of online auctions. We believe sellers will find value in our closely guided process, giving them confidence that their car is represented honestly and that if the right buyer is out there, we will find them.
About Hagerty (NYSE: HGTY)
Hagerty is an automotive lifestyle brand committed to saving driving and fueling car culture for future generations. The company is a leading provider of specialty vehicle insurance, expert car valuation data and insights, live and digital car auction services, immersive events and automotive entertainment custom made for the 67 million Americans who self-describe as car enthusiasts. Hagerty also operates in Canada and the UK and is home to Hagerty Drivers Club, a community of nearly 800,000 who can't get enough of cars. As a purpose-driven organization, Hagerty Impact aims to be a catalyst for positive change across the issues that matter most to our teams, our members, the broader automotive community, our shareholders and the planet at large. For more information, please visit www.hagerty.com or connect with us on Facebook, Instagram, Twitter and LinkedIn.
*Data represents cars sold on Hagerty Marketplace online auctions between November 1, 2022, through June 30, 2023, inclusive of Buyer's Premium to represent prices paid by buyers.
Forward-Looking Statements – This press release contains forward-looking statements within the meaning of the Private Securities Litigation Reform Act of 1995. These statements reflect our current intentions, expectations, or beliefs regarding the business. Because forward-looking statements relate to the future, they are subject to inherent risks and uncertainties that are difficult to predict and may be outside of our control. Some of the factors that may cause our actual results to differ materially from those contemplated by our forward-looking statements include: (i) our ability to recognize the anticipated benefits of the subject of this press release; (ii) our ability to compete effectively within our industry and attract and retain members; and (iii) the other risks and uncertainties listed in our Form 10-K filed with the U.S. Securities and Exchange Commission ("SEC") on March 14, 2023. This press release should be read in conjunction with the information included in our other press releases, reports and other filings with the SEC. Understanding the information contained in those filings is important in order to fully understand our reported financial results and our business outlook for future periods. We do not undertake any obligation to publicly update or review any forward-looking statement, whether as a result of new information, future developments, or otherwise, except as required by law.